Choosing a Domain Name for Your Website
Choosing a domain name for your website is EXCITING.
It's part of your address to lead anyone to your digital space – Your Website!
At the same time it can feel daunting & overwhelming.
What is the best name to use?
So many thoughts, so many ideas?
What will people think?
Does it make sense?
It's an important part of your online business.

You've got to love it as it will be your websites' long term brand & you will be known by it.
The domain name is made up of the name you choose, a dot and a domain extension
For example 'amazon.com', 'google.com', 'facebook.com'
Domain names are all in lower case with no spaces. Although when you read an article or see an advert the domain name may appear with uppercase letters, this is simply to make it easier for the reader. For example: 'LastMinute.com' is capitalised within some article but the address in the browser shows up as 'lastminute.com'
Domain names can have hyphens &/or numbers, however these are not recommended. People generally would not remember if there were any hyphens or indeed where they are placed. An example of a hyphenated domain name would be 'my-online-business.org'. With numbers they wouldn't remember if they were spelt out or numerical, eg: 'studiofortythreehairstylist.com' / 'studio43hairstylist.com'.
Nowadays there are 100's of domain extensions to choose from, the most familiar ones being '.com', '.org', or '.net'.
Other examples include country specific such as '.us', '.uk', '.fr'; more recently generic ones such as '.guru', '.travel', '.reviews'.
Dot com is still highly recommended as your first option, then dot org or dot net.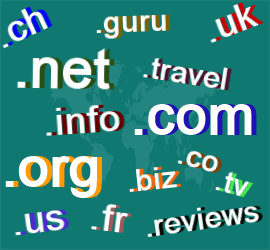 There are a couple of approaches you can take when choosing your domain name for your website
Keyword specific
Brandable
Back in the day keyword specific domain names was the way to go to get ranked high by search engines.  Search Engines got wise to this & found far too many of these websites were low on content value, so now it is no longer the case.  There is no advantage to having a keyword specific domain name over a brandable domain name.  The bottom line is search engines will associate your domain name with the keywords used in the content of your website.
1) Keyword specific
Keyword specific is when your domain is the exact keyword term you are targeting, eg:
– officesupplies.com
– partyballoons.com
– affiliatemarketing.com
– accountantbradford.co.uk
– carrentals.com
2) Brandable
Brandable can be anything, such as anyone of these or a combination of them:
– your name
– your interest
– made up words
– can also include keywords
Some well-known examples:
• amazon.com
• google.com
• facebook.com
• netflix.com
• paypal.com
• tonyrobbins.com
• madonna.com
other examples (some fictional but given for their style):
• bakewithkaty.com
• pawsnclawspetservices.com
• tonysfishingtips.com
So it's up to you how you name your domain.
There is no hard & fast rule, just things to take into consideration.
Tip:
Simple and the shorter the better. Keeping your domain name simple and short is easier for your audience to remember, also preferably something that rolls off the tongue easily.
Something to watch out for when choosing a domain name for your website…
Choosing a domain name that later you look at & realise it has another interpretation, one that is not appropriate can be devastating.
When you take into consideration the under-mentioned points, it's easy to see how a domain name can unintentionally have a double meaning.
– Firstly domain names are all in lowercase with no spaces
– Secondly different people can see different things when looking at the same thing
To avoid choosing a domain name that could unintentionally be inappropriate don't register it straight away.  Walk away from it, then come back and look at it with a clear mind & fresh eyes.  Ask those around you to tell you what they see, get feedback.
Sometimes it's inevitable when using a particular domain extension; it can add a whole new meaning.  Also it's unfortunate that some family names, foreign names/words or a word that describes what you do have within them hidden words.  In this case you need to weigh up how it will affect your business and if it's worth going ahead with.
To see what I mean take a look at some domain names chosen intentionally or unintentionally for their double meaning in English.  Some will give you a chuckle others may make your stomach turn.
What do you see at first?
| Domain Name | It's Intention | It's Unintention |
| --- | --- | --- |
| 1hourscrap.com | Rapid scrapbook making | 1 Hours Crap |
| alterscrap.com | Alter Scrap | Alters Crap |
| americanscrapmetal.com | American Scrap Metal | Americans Crap Metal |
| analemma.org | Analemma | Anal Emma |
| auctionshit.com | Auctions Hit | Auction Shit |
| bendover.com | Ben Dover | Bend Over |
| bitefartcafe.rs | Bitef Art Café | Bite Fart Café |
| blackhatebook.com | Black Hat eBook | Black Hate Book |
| budget.co.ck | Budget Cook Island | Budget Cock |
| childrenswear.co.uk | Children's Wear | Children Swear |
| crapparchitects.com | Crapp Architects | Crap Architects |
| cumstore.co.uk | Cumbria Storage Systems | Cum Store |
| dicksonweb.com | Dickson Web | Dicks on Web |
| dollarsexchange.com | Dollars Exchange | Dollar Sex Change |
| effoff.com | Effective Office Environments | Eff Off |
| expertsexchange.com | Experts Exchange | Expert Sex Change |
| ferrethandjobs.com | Ferreth and Jobs | Ferret Hand Jobs |
| hardyswines.com | Hardys Wines | Hardy Swines |
| ihavegas.com | IHA Vegas Holiday Rentals | I Have Gas |
| itscrap.com | IT Scrap | It's Crap |
| kidsexchange.net | Kids Exchange | Kid Sex Change |
| ladrape.com | La Drape | Lad Rape |
| lesbocages.com | Les Bocages | Lesbo Cages |
| molestationnursery.com | Mole Station Nursery | Molestation Nursery |
| mp3shit.com | Mp3s Hit | Mp3 Shit |
| oddsextractor.com | Odds Extractor | Odd Sex Tractor |
| penisland.net | Pen Island | Penis Land |
| potsofart.com | Posts of Art | Pot So Fart |
| powergenitalia.com | Powergen Italia | Power Genitalia |
| speedofart.com | Speed of Art | Speedo Fart |
| swissbit.ch* | Swiss Bit | Swiss Bitch |
| teacherstalking.org | Teachers Talking | Teacher Stalking |
| thenewstalkers.com | The News Talkers | The New Stalkers |
| therapist.com | Therapist | The Rapist |
| therapsitfinder.com | Therapist Finder | The Rapist Finder |
| ultimatesteelerection.com | Construction Company | Ultimate Steel Erection |
| viagrafix.com | Via Grafix | Viagra Fix |
| whorepresents.com | Who Represents | Whore Presents |
| wintersexexpress.com | Winters Express | Winter Sex Press |
Of course once you go to the website you generally get the intention.

What's that expression? "First impressions …"
Not all the above domain names are active today but they were at some point & some are redirected to a new domain name.

In the main we're told not to take too much time choosing our domain name, however it's worth checking that it doesn't contain an unintentional double meaning that could harm your business.
What have you seen?
Have you seen a domain name that should be on this list? Let us know in the comments below.
In Summary for Choosing a Domain Name for Your Website
There is no hard & fast rule, just things to take into consideration
Choose a name that you love & can see yourself working with for the long term
Hyphens &/or numbers are not recommended
Simple, short & rolls off the tongue easily
Dot com is still highly recommended as your first option, then dot org or dot net
Keyword specific domain names no longer have an advantage
Does your domain name have an unintentional double meaning?
Have any thoughts or questions? Feel free to ask them below and chime in any discussion.
To your abundance & dream laptop lifestyle!