Affiliate Marketing is one of the most popular online ways people are monetising their websites.
It is a 'win win win' for the Customer, Company and Affiliate Marketer!
You probably have come across many of them whilst surfing the web in search for product reviews, answers to questions you may have, topics you are interested in, …
So what is it? The simple definition…
You the website/blog owner is the affiliate
You promote a company's goods or services by placing a special unique link on your site
When a visitor to your site clicks on the link and purchases said goods or services directly from the company within a pre-defined time frame
You receive a commission

For example:
Your passion is, let's say, 'Quilting'. You create your website around this topic, giving tips, ideas, your experiences, product reviews, etc…
You sign up with one or more companies that have an affiliate programme, say for quilting patterns, fabrics, tools, etc… They supply you with a special affiliate link which you place on your site.
When your visitors click these special affiliate links and purchase within the pre-defined time frame, you earn a commission.
Win for You the Affiliate Marketer!
The commission comes out of the company's normal retail price, so it doesn't cost the customer any more for purchasing via your affiliate link. The customer gets what they want because of your recommendation.
Win for the Customer!
With Affiliate Marketing you don't handle any products. You simply promote the products. The customer deals directly with the company who handles everything from that point – all the shipping, customer service, payment, etc…
In some cases, your visitors won't even have to buy anything. For you to earn a commission they may just need to request a free report, a free sample, fill in a survey or try some software. This type of Affiliate Programme compensation is known as "pay-per-lead", but more about that later.
Why do companies have Affiliate Programmes?
Simply put – by offering Affiliates a commission for the sale of their goods or services they reach a wider audience faster, make more sales, increase their customer base without the added marketing costs. The company only pays the commission when a product or service is sold, so it makes business sense.
Win for the Company!
As it makes business sense it's very popular with big and small companies alike, even High Street brands. You will find free to join Affiliate Programmes for whatever niche you cater for. One of the better known companies you might of heard of is … Amazon!
What is this special unique link & how does it work?
Once you sign up to a company's Affiliate Programme you will be given one or more unique links to direct your visitors to their website. Within that link there will be a code unique to you which will be automatically tracked by the power of the internet.
For example:
Many affiliate links look something like this
http://www.ExampleAffiliateCompany.com?a_aid=zy987u94
The last part 'zy987u94', is the unique identifier.
Whenever someone clicks on these links the computers browser remembers it by creating a 'cookie' with a date & time stamp. The company's website reads that cookie to identify who is due the commission if any. Even if the visitor doesn't purchase straight away but revisits & buys within the agreed pre-defined time frame the cookie will identify it's your commission.
How to find Affiliate Programmes:
Browser search
A simple way is to search through your browser. In the example above for 'Quilting', I simply google searched for 'Quilting + Affiliate Programme' & got over 17 million results. Granted they won't all be relevant, however the first few pages gave me a lot of choices.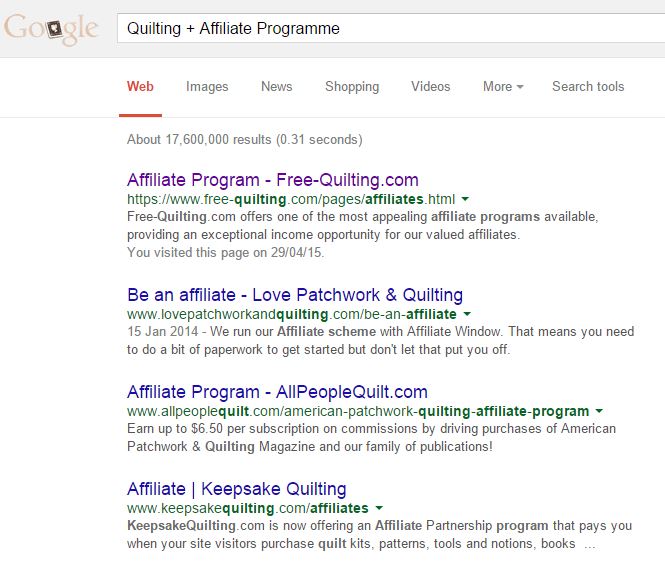 Affiliate Networks
Affiliate Networks bring together companies that offer Affiliate Programmes & Affiliates who want to promote them under one roof. Sort of like a Supermarket for Affiliate Marketers.
They often run and manage the Affiliate Programme on behalf of the company.
Again Affiliate Networks will have their own look & feel and vary in what they offer. Some specialise in certain niches.
Some of the Affiliate Networks out there:
Clickbank
One of the better known market places for digital products. They offer over 6 million to choose from in a wide range of subjects.
CJ Affiliate (formerly Commission Junction)
Manages many of the affiliate programmes for some of the biggest companies in the world.
Affiliate Window
For High Street brands in the UK, USA, Ireland, Canada, Europe.
There are far too many to list. When I googled 'affiliate networks' I got over 10 million results. Of course you can fine tune your search by adding say the country you may want to focus on.
Some of the advantages of joining Affiliate Networks:
Saves you time
See at a glance what products are popular
Acts as a mediator between you the Affiliate and the Company
Sometimes pre-approve you for several Affiliate Programmes, so no need to apply for each individually
Provides Affiliate Marketing tools
Supplies Affiliate tracking links & stats
Tracks all sales generated through your Affiliate link
Handles all commission payments
What Types of Affiliate Programme Compensation are there?
Commission is earned by an Affiliate Marketer when…
pay-per-click
… An Affiliate Marketers visitor clicks through to the Affiliate Programmes website via the Affiliate Link. Also known as cost-per-click (CPC)
pay-per-lead
… An Affiliate Marketers visitor completes & submits an online registration, membership, or subscription on the Affiliate Programmes website via the Affiliate Link.
Also known as cost-per-lead (CPL)
pay-per-sale
… An Affiliate Marketers visitor purchases a product or service from the Affiliate Programmes website via the Affiliate Link.
Also known as cost-per-sale (CPS)
How do I sign up for an Affiliate Programme?
Affiliate Programme requirements will vary from company to company.
The usual minimum requirements are:
Website that is in line with the Affiliate Programmes' products or services
Valid Email Address
Valid Postal Address
Bank Account
You'll apply by completing the chosen company's application form, normally found on their website. They will review your application, check you meet their criteria and then will notify you of their decision.
Some companies will not accept a new website, as it doesn't have a track record or enough visitors. But don't despair! Over time the work you do on your website will improve & strengthen it, you can then reapply, so really it's only a no for now.
Before signing up with any Affiliate Programme do your research…
What reputation do they have?
Are they paying their Affiliates?
Understand their Terms and Conditions
What is required of you?
How do they operate?
…
A great place to ask these types of questions and get answers from first hand experiences is within the Wealthy Affiliate Community.
How do I keep track? The Affiliates Back Office…
Most Affiliate Programmes will also give you a login to their websites affiliate back office. Your 'for your eyes only' admin area. Each company will have its own look & feel.
Generally you'll have all the information relating to your affiliation with the company including the Terms & Conditions, banners (pictures) you can use to promote, your unique links, your sales, commissions due & earned.
Some will also provide you with various statistics such as how many times your links have been clicked, the conversion to sales, etc…
How much can I Earn?
You decide! It's all up to you & what you do!
However like any business it won't happen overnight. The more you apply yourself to growing your business, the more your earnings will grow. The work you do today & every day will have a compounding effect for your future earnings. So many people start part time.
Everyone is different. The Affiliate Marketers earning 5 & 6 figure incomes within 2-4 years, started out the same way as everyone else, but followed a consistent plan of action focused on helping people. Some started seeing a profit within a couple of months whilst others it took a year.
What is the best way to learn Affiliate Marketing?
So you're excited about Affiliate Marketing and you now have an idea on how to monetise your website/blog. But where to start? How to put it all together?
Wealthy Affiliate has so much information on Affiliate Marketing, including step by step courses so you can start right and fast. A community you can reach out to for advice on 'how to & best of'. A great source for seeing a range of Affiliate Marketers websites, see the 'what & how' they do it.
So the best place is with the Wealthy Affiliate University, it's free to join – no credit card required. You can read all about it in my Wealthy Affiliate Review here >>
Have any questions? Feel free to ask them below and chime in any discussion.
To your abundance & dream laptop lifestyle!  🙂