No matter what type of online business you want to create, having your own website is a must – preferably one that you have total control over.
Why? So that you have freedom to express yourself and attract like-minded people. It's the central hub for all your other activities in creating your successful online business.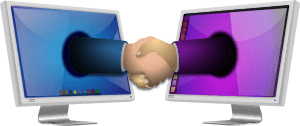 It is rare that a visitor to your site will become your customer the first time they visit. People ultimately like to do business with people they feel they can trust and offer them solutions they're searching for. Your website is the gateway for building that trust!
Replicated official website, does that work?
Running an online business where they provide you with a replicated official website has its limitations as you can't put your own stamp on it. You can't make any changes to it. Whilst they may be good websites many owners of these replicated sites in time find that just promoting that website does not give them the conversions to grow their business. Also the likelihood that this site will rank highly on search engines is very unlikely.
Why? Because the personal touch which creates rapport is not there. There's no way of inviting your visitors to follow you & be kept up to date with the latest news. So the solution for this type of business is to have your own website and through posts or promotions direct your visitors to your official replicated website as the next step.
What about Splash pages?
The same goes with these businesses that rely on sending visitors straight to a splash page. A splash page is a one to three page website that either gives you a long sell on a product or asks you for your email address in order to see more. Personally I have come to detest these marketing tactics, unless they have come from someone I have been following and like.
Creating your own Website…
You could create your own free website using the likes of for example Weebly or Wix, which give you drag & drop features. However if you're serious about building a long term online business you'll find you don't have total freedom with plugins, etc… even if you upgrade to the paid service.
You could hire a web developer to create your website if you can afford to, it could cost hundreds of dollars. Again there most probably will be limitations as to what you can do once it has been created so you may be relying on the web developer for making changes, etc… which comes with costs. Should you go down that route I'd recommend they create it in such a way that you can easily update & maintain it.
WordPress.com vs WordPress.org?
WordPress is the most popular website platform today for the everyday person, as it doesn't require coding knowledge and has an almost WYSIWYG (What You See Is What You Get) feel to it. It's not just a blog…, it doesn't even have to be a blog, it can be customised to whatever online presence you want.
WordPress.com is the fully hosted version with restrictions, whilst
WordPress.org is the self-hosted version with total freedom to make it look and feel how you want it!
Let's compare:
WordPress.com price plans per website:
Where to host a WordPress.org website?
There are many general hosting service providers (such as GoDaddy, NameCheap, …) , which are not specific to wordpress and there are hosting providers that specialise in wordpress hosting (such as WA, WPengine, …).
Not all hosting service providers are equal, many times it can be comparing oranges with apples.  With the cheaper options from general hosting service providers your website will share servers with 1000's of different types of websites.  Having this myriad of websites can slow down your websites performance because they are not monitored & as visitors are generally not too patient they may not hang around.  This also puts your websites security at risk from hacks, attacks and data integrity issues.
So the solution is to go with a wordpress hosting specialist such as Wealthy Affiliates premium package & let them take care of all that techie stuff. Not only that you get everything in the WordPress.com vs WordPress.org comparison table above but it also includes:
A highly optimized and simplified hosting platform
Speed – fast website loading for your visitors
The ability to MOVE websites from one domain to another
The Ability to fire up Websites on demand
Host up to 10 of your own domain Websites
SSL for all your Websites
500k website visitors per month
30GB Website Space
Create & manage unlimited website email addresses
Full Redundancy (100% backed-up to the minute)
The latest hosting technology (your websites are always hosted on the highest powered servers available)
Automated recovery processes
Personal website monitoring and maintenance
Comment spam management and behavioural assessment (so you don't even get the spam in the first place)
Website integrity updates to continually improve how your WordPress sites function, based on the latest version of WP
24/7 Support
One of the benefits of being able to host so many websites even if you don't plan in creating that many is being able to set up a test site. With a test site you can install, uninstall the various themes & plugins. See how they work & look. Try out the different ideas you'll have, find what you prefer. All this without negatively affecting your live site & only make the changes you want to the live site when you are happy & ready.
So all in all with WA you have room to grow without the worry of additional costs. The monthly premium membership is $49 per month or you can take out the yearly membership of just $495 which works out to only $41.25 per month. Yearly Premium Membership also come with a Free .com Domain ($14 value).  Incredible value when compared with wordpress.com above and WPengine below.
But of course WA is not just about hosting, it is so so much more…
I stumbled upon them as I was looking for a reliable in depth training camp for creating an online business of my choice regardless of prior experience or techie knowledge. Some of the huge added bonuses of joining them is the hosting and big interactive helpful community.
I originally signed up with them as a free member to check them out and see if they were all they claimed to be. I took advantage of all they had to offer free members and found so much valuable training and resources for newbies to establish an online business. I highly recommend WA as the starting point for anyone wanting to create their Laptop Lifestyle. Read more as to what Wealthy Affiliate (WA) can help you with here.
Have any questions? Feel free to ask them below and chime in any discussion.
To your abundance & dream laptop lifestyle!  🙂